Getting around Moloka'i is as easy as poi. The highway crosses the island from east end to west end with a couple of roads that branch off for short distances. It's almost impossible to get lost.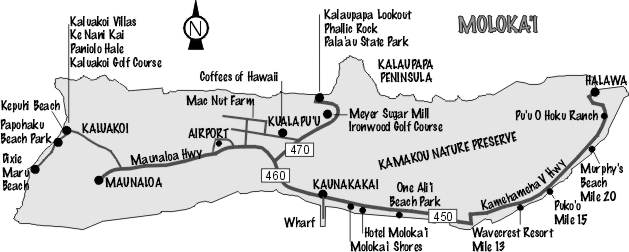 Even though it's the same road, you'll note from the map that it has two highway numbers. 450 & 460. Kamehameha V Highway (450) starts at Kaunakakai and ends 27 miles (43km) east at Halawa.



Maunaloa Highway (460) also begins at Kaunakakai, passes the airport at Ho'olehua and ends 17 miles (27km) west at the village of Maunaloa. Turn at mile 15 to reach the Kaluakoi Resort area. To get to Kualapu'u, Kala'e and the Kalaupapa lookout, take Highway 470 where it branches from 460 in the middle of the island.



There are green mile posts every mile. Directions to someone's house, a resort or a great beach usually include the nearest mile marker number or landmark. For example; "My house is east 6/10s past mile 12. Mauka (mountain) side" or "Wavecrest resort is at exactly mile 13 east, makai (ocean side)."



If you're a fan of Google's maps, you'll find a pile of them on the Index of Maps page. We've created maps to help you find anything from condos and restaurants to beaches and stores. They're sure to make it easier finding your way around.


Distances & Driving Times


Below we've listed a few point-to-point mileage and driving times. While the driving times may seem a little high for the distance involved, they are based on some real life-on-moloka'i factors.



The highest posted speed limit anywhere on the island is 45mph (72kph) and in many places it's less. Since agriculture plays a major role in island life, you may come upon farm equipment being moved from place to place using the highway or someone just poking along on their way home.



Folks on Moloka'i aren't usually in a rush to get anywhere. The philosophy being - Why hurry, it's an island.



Maunaloa to Kaunakakai - 17 miles (27km) - 25 minutes
Kaluakoi Resort to Kaunakakai - 22 miles (35km) - 35 minutes
Kaluakoi Resort to Kalaupapa lookout - 24 miles (38km) - 35 minutes
Kaluakoi Resort to Airport - 15 miles (24km) - 20 minutes
Kaunakakai to Wavecrest Resort - 13 miles (21km) - 20 minutes
Kaunakakai to Halawa - 27 miles (43km) - 50 minutes
Kaunakakai to Kalaupapa lookout - 10 miles (16km) - 20 minutes
Kaunakakai to Airport - 8 miles (13km) - 20 minutes