SHOPPING – Molokai Art & Hand Crafts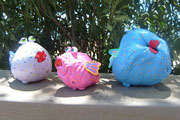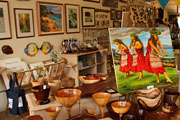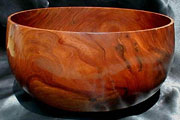 Art & Hand Crafts
Turned Wood
Fine Art
Hand Crafts

Molokai Art From The Heart
Conveniently located in downtown Kaunakakai, this gallery of local creations features over 100 of Molokai's most talented artists and craftsmen. Ala Malama Street, Kaunakakai – 808.553.8018 – 9:30am-5:30pm Mon-Fri – 9:30am-2:30pm Sat – Closed Sun

Kalele Bookstore & Devine Expressions
Local art work, books of all kinds, children's games and toys.
64 Ala Malama Street, Kaunakakai
808.553.5112 – 10:00am-5:00pm Mon-Fri – 9:00am-2:00pm Sat – Closed Sun

Island Art By Anna
Resident artist, Anna Fuerensteiner brings Hawaiian Culture to life on her canvas, expressing the people, customs, marine and tropical beauty. Have her works delivered directly to you from her online store or find them at Molokai Art From The Heart, Blue Monkey and Hotel Molokai.

Kamakana Country Store
The Kamakanas have a delightful small shop on their country homestead featuring tropical & Hawaiian products, local food products, kitchen items, health & beauty choices and other neat stuff.

Molokai Local Store
Gifts, Hawaiiana, Sundries
Inside Hotel Molokai
808.553.3878 – 8:30am-7:00pm Sun-Thu – 8:30am-8:30pm Fri

Coffees of Hawaii
The gift shop at Coffees of Hawaii carries a large selection of Molokai made arts and crafts, plus other art from all over the Hawaiian Islands.

Molokai Made in Hawaii
A compendium of made on Molokai products and services. Featuring food, flowers, fine art, hand crafts, apparel, books, music, photographers, weddings and web sites. An excellent resource if you're seeking authentic Molokai products.