VACATION INFORMATION – Molokai Visitor Tips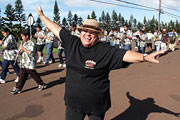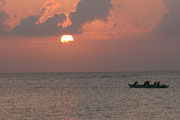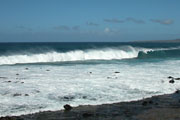 Insights
Slow Down
Expectations
Cautions
Making The Most of Your Visit
Slow Down – As the sign at the airport exit says, "Slow Down, This is Molokai." This means physically, mentally and emotionally. If you thrive on a fast-paced life and hectic schedules, this is not going to be your favorite island. If you are seeking a lot of peace and quiet, beautiful scenery, gracious people and no stress, you'll love Molokai.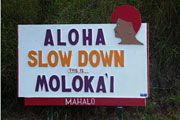 Smile – That way you'll look like everyone else.
Leave your attitudes – At home.
Watch the Ocean – None of Molokai's beaches have life guards, and some of the beaches can be very dangerous, especially Papohaku on the west end. BE CAREFUL. Never turn your back on the ocean. Never underestimate the ocean's power.
No Trespass – Honor the no trespassing (kapu) signs.
Don't Block the Road – We know how beautiful you will find our island. However, when you slow or stop your car for the ooohs and aaahs please pull completely off the road so traffic can safely pass.
More Slow Down – The highest posted speed limit on Molokai is 45 mph and it is enforced. About as far as you'll want to press your luck is 5 mph over. School zones 20 mph – no tolerance. Think about it, "what's the rush, it's an island." Besides, anything up to 15 minutes late is considered punctual on Molokai. By the way, in Hawaii, "Buckle Up" means "BUCKLE UP!!!"
Let'um Cross – Molokai's main town, Kaunakakai, is one of the very few places in the US where jay-walking is normal. When driving, if you see folks crossing the street, whether in a crosswalk or not, stop for them, they will for you.
Let'um Out – On Ala Malama Street in Kaunakakai, many of the parking places are at the diagonal. So when you see folks starting to back out, stop and let'um out, they will for you.
Street Conferences – You may come upon a normal Molokai street conference, where two cars headed opposite each other are stopped side by side with the drivers engaged in conversation. Be patient, no honk. The conference will end shortly and you'll be on your way.
Cell Phone Issues – At best, cell phone coverage on Molokai is spotty. The best carriers seem to be Verizon, Nextel and AT&T. You'll find the best connections in Kaunakakai and on Maunaloa Highway (460) as far as mile 15. You'll get no bars beyond Mile 2 east or anywhere beyond mile 15 west.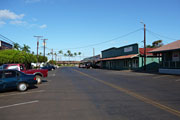 It Takes Longer – It always takes longer than you estimate to get from one place on the island to another. While distances are not very far, travel is going to be slower than you think. Allow plenty of time. Does that sound like "slow down" again?
Learn – A few basic Hawaiian words such as; aloha, mahalo, makai, mauka and a hui hou. It will make a big difference. See the Local Lingo section for an introduction.
Are You My Auntie? – In Hawaii and especially on Molokai, almost any wahine (woman) older than you is called "auntie." An older kane (man) is called "uncle." Actual blood relationship has no bearing on the subject. So, when someone younger than you calls you auntie or uncle, be flattered by the compliment.
This is U.S. – Remember, Hawaii is one of the 50 United States, not a foreign country. When you refer to your home, it is not "back in the states." It, and all the other states are "on the mainland."
Take It With – While other islands seem to have too many auto break-ins, Molokai has very few. HOWEVER, prudence dictates that when you park your easily identifiable rental car at the beach or park, you take valuables with you. The car trunk is not a safe lockup.
Malama 'Aina – Means care for the land. We take it seriously. So, when you leave the beach or island attraction, take your opala (rubbish) with you. If someone not so akamai (smart) forgot some of their opala, take it with you as well. The island will love you the more for your kokua (help).
Water – Always have drinking water in the car when you're traveling around our island. Most of the beaches and visitor destinations lack potable water. You may also want to keep a gallon or two with you to wash off beach sand.
Sun – Use plenty of high-octane sun screen. The tropical sun can be brutal, especially in the summer months. A big hat may also be a smart accessory. See the Climate page UV index for more insight.
Need Some Cash – 24-hour ATMs are available at Bank of Hawaii and American Savings Bank. See the Banks page for locations and maps. Some businesses, like Hotel Molokai and Molokai Pizza Cafe, have small, private ATMs. In addition, your travelers checks will work at almost every shopping venue on the island, but foreign currency will need to be exchanged at one of the banks.
Groceries – If you'll be staying in a condo or vacation rental, you'll probably want to acquire your necessary grocery items BEFORE you check in at your island digs. Friendly Market closes at 8:30pm M-F, at 6:30pm on Saturday and they're closed on Sunday. Misaki's closes at 8:30pm M-S and is open 9am-11am Sundays.   Sunday Exceptions – Kanemitsu's Bakery open all day, The Minimart is open late, Wine & Spirits is open until 8:00pm and Pascua's is open until 10pm for snacks and a few emergency items. See the Groceries Page for complete details.
Natives – Residents in the islands are referred to as "locals." "Natives" is a term looked upon with disfavor. You wouldn't want to offend, would you?
Expectations – Do Not expect to find here all the conveniences and amenities you have at home. Those are the things folks are trying to escape when they visit this beautiful island. Allow your visit to be uncomplicated and stressless.