VACATION INFORMATION – Getting To & Around Molokai
Getting to Molokai can be a challenge, but well worth the effort. There are no direct flights from anywhere outside Hawaii, so you'll have to connect in either Honolulu or Maui.


Start your Hawaii adventure by flying from the mainland US with Hawaiian Airlines
. This local carrier often has the best through fares to Molokai from the West Coast and their gates at the Honolulu and Maui airports are the closest to the commuter terminal where you'll catch other airlines' connecting flights to Molokai.
HNL – Honolulu
OGG – Kahului, Maui
MKK – Molokai – You'll sometimes see our airport listed as Ho'olehua, which is its physical location. You'll find more connecting flights through Honolulu than Maui, but either one will work.
Service Terminated 10/27/2016
The Molokai Princess, that used to transport passengers to and from Lahaina, Maui  is no longer in service.
Since there is no public transportation on Molokai, you will need a rental car or a taxi to see all the beautiful sights on our island. Taxi service is available from two companies.
Hele Mai Taxi – 808.336.0967   Provides reliable, island-wide service with plenty of Aloha. They also offer exclusive, private island tours.
Midnight Taxi – 808.658.1410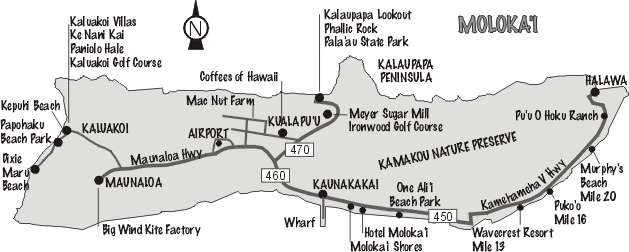 Even though it's the same road, you'll note from the map that it has two highway numbers. 450 & 460. Kamehameha V Highway (450) starts at Kaunakakai and ends 27 miles (43km) east at Halawa.
Maunaloa Highway (460) also begins at Kaunakakai, passes the airport at Ho'olehua and ends 17 miles (27km) west at the village of Maunaloa. Turn at mile 15 to reach the Kaluakoi Resort area. To get to Kualapu'u, Kala'e and the Kalaupapa lookout, take Highway 470 where it branches from 460 in the middle of the island.
There are green mile posts every mile. Directions to someone's house, a resort or a great beach usually include the nearest mile marker number or landmark. For example; "My house is east 6/10s past mile 12. Mauka (mountain) side" or "Wavecrest resort is at exactly mile 13 east, makai (ocean side)."
While the driving times below may seem a little high for the distance involved, they are based on some real life-on-moloka'i factors. The highest posted speed limit anywhere on the island is 45mph (72kph) and in many places it's less.
Maunaloa to Kaunakakai – 17 miles (27km) – 25 minutes
Kaluakoi Resort to Kaunakakai – 22 miles (35km) – 35 minutes
Kaluakoi Resort to Kalaupapa lookout – 24 miles (38km) – 35 minutes
Kaluakoi Resort to Airport – 15 miles (24km) – 20 minutes
Kaunakakai to Wavecrest Resort – 13 miles (21km) – 20 minutes
Kaunakakai to Halawa – 27 miles (43km) – 50 minutes
Kaunakakai to Kalaupapa lookout – 10 miles (16km) – 20 minutes
Kaunakakai to Airport – 8 miles (13km) – 20 minutes