Welcome to Molokai, The Most Hawaiian Island. Often called "The Friendly Island" because the aloha spirit flourishes here.
If you're looking for the real Hawai'i, this is it.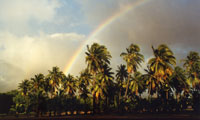 If you're looking for old Hawai'i, this is it.
If you're looking for breathtaking natural beauty, rain forests or deserted beaches, this is it.
If you're looking for glitz and glamour, you'll need to look elsewhere.
This is an honest look at an island lost in time.
An island where no building is taller than a palm tree.
Where aloha is not just a word, it's a way of life.
Where the longest white sand beach in Hawai'i will probably have only your foot prints on it.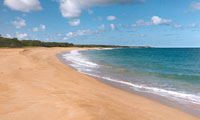 An island where there is so little automobile traffic, there's not a single traffic light.
There's no mall, no elevators and no neon. No burger wars here.
Shopping is done in small, friendly businesses in Kaunakakai, the largest town, and in the villages of Kualapu'u and Maunaloa.
Life here is slow and relaxed.
It's rural and peaceful.
It's like stepping back in time 50 years.
It's a place like no other.
To plan your Molokai vacation, Use all the tourist information in The Visitor Center. It contains everything you'll need to know about;
Airlines
Lodging & accommodations
Rental cars & taxis
Visitor activities & attractions
Vacation rentals
Dining
Groceries
Everything a visitor needs to know
You'll also find cultural info, attractions, maps to everything, driving instructions, special events, even visitor tips and a bit of the local lingo so you'll feel right at home while you're here.
Attractions on Molokai are as varied as the topography and as relaxed as the island attitude.
On Molokai, you can do as much as you want or nothing at all. Perhaps a little of both? Snorkeling, scuba, fishing, whale watching, golf, hikes, tours? Or maybe try to complete that book you've been reading. Or a nap at the beach under a palm tree.
If you're visiting our beautiful island, you'll be needing a place to stay. You can find the perfect choice on the Accommodations Page.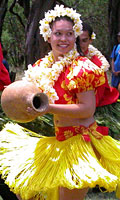 Special events on Molokai include;
A celebration of the birth of hula which occurred here
Men's and women's outrigger canoe races across the 26 mile channel to Waikiki on Oahu
And a plethora of parades, festivals and other "only on Molokai" events.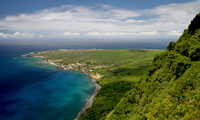 Perhaps the most stunningly beautiful place in Hawai'i, Kalaupapa Peninsula is the site of Saint Damien's mission where he ministered for 16 years to those suffering from Hansen's disease.
Here you'll find historical & cultural information about Hawai'i in general and Molokai in particular.
Our island's climate is delightful. See for yourself.
Take a photo tour on, around and above our beautiful island.
Consult this Molokai map to get the lay of the land, plus driving tips and directions. You'll also find the maps directory with Google maps for everywhere you wish to go.
You'll find answers to the questions we're most often asked, plus a way to submit your own.
We are always pleased to hear your questions, comments or suggestions regarding this site.
For 100 years, the paniolo (Hawaiian cowboy) of Molokai Ranch have molded a heritage that continues to influence the island and her people.
Images, text and graphics on this web site were contributed by Molokai residents. Some famous, some soon to be famous and some not so famous.  All of whom love Molokai and its people.
James H. Brocker, Richard A. Cooke III, Adrienne Jumper, Jeffrey Jumper, Dewitt Jones, John Kaimikaua, Ellen Osborne, Wainwright Piena, Barbara Schonely, Susan Forsberg, Pilipo Solatorio, Catherine Buchanan, Molokai Museum, Molokai Ranch
Mahalo to Jeffrey Jumper – Web Sights Crafted for creating this site and providing server space.
Copyright © 1996 – 2015, visitmolokai.com. All rights reserved.
Copyrights to all photographs and images are the property of the respective copyright owners and may not be used in any way without prior written permission from the copyright owner and are protected by US and international copyright laws. No images are within Public Domain and may not be reproduced, copied, stored or manipulated in any way. The use of any image as the basis for another photographic or illustrative concept is a violation of copyright.