PHOTO TOURS – Original Tour – The West End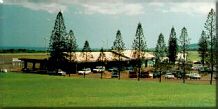 Here it is. The Ho'olehua Airport. Small and quiet, it's located just west of the island's geographic center. Out on the prairie as this part of Molokai is called.
No jetways here. No death march down endless plastic corridors. You just walk a few yards from the plane to baggage claim. If your airline wrote MKK on your luggage tags, this is where they'll show up. Usually on the same plane with you.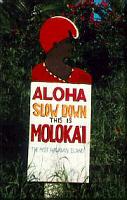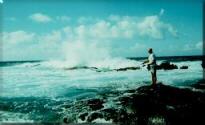 As you exit the airport, you'll see this sign created by one of the Ho'olehua homesteaders.
It reflects the island attitude that you'll surely want to adopt. There's no need to rush on Molokai. Slow down. Relax. Enjoy the quiet beauty.
Allow yourself to be embraced by the serenity of this special island. Just sit down for a few peaceful minutes and see if this fisherman lands a big one.
Enjoy the warm sunshine and the trade winds. Don't worry if your hair gets a little mussed. No one here will mind. Trade winds treat everyone the same.
Kepuhi Beach, which fronts the Kaluakoi Resort, is one of several great beaches on the west end of the island. It's a favorite for locals and visitors alike.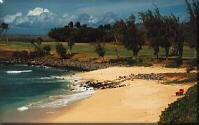 If it looks too crowded for you here another nice beach, Pohaku Mauliuli Beach (locally known as Make Horse), is about 300 yards over that little green rise at the left center of the photo. Under those big trees.
Since you're here, why not take an hour or so to do some "wave supervision". Simply sit on the beach and direct the surf. Make sure each wave is breaking exactly as you dictate. It takes a while to get the hang of this, so don't be disappointed if your first duty shift is not a total success. You may need to come back tomorrow for more practice.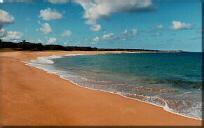 Papohaku Beach is one of the longest white sand beaches in Hawai'i. So, it's surprising that you can walk onto this beach and often be the only person on the entire 2 mile stretch.
A great place for jogging or a quiet stroll. Swimming is usually safe in the summer, but strong winter swells create dangerous albeit beautiful surf conditions.
If you're a golfer, you'll appreciate the photo below. Centered in that group of palm trees on the knoll is the 10th green of the Kaluakoi Golf Course.   Notice where the rainbow ends.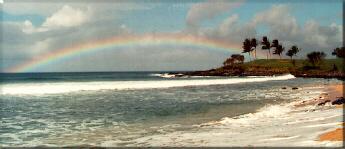 If you're not a golfer, who cares what's under those palm trees. Look at that rainbow!