PHOTO TOURS – Original Tour – In The Middle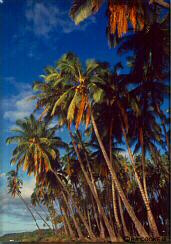 Kapuaiwa, one of the few remaining royal coconut groves in Hawaii, was planted on the vacation retreat of King Kamehameha V in the 1860s.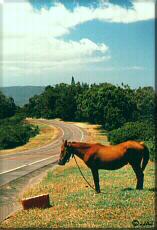 Situated along the shore, about a mile west of Kaunakakai and in one of the driest parts of the island, it is fed by underground springs.
It is said that the original grove was about 10 acres (4 hectare) in size and contained 1,000 coconut trees. Over time, the grove has been greatly reduced in size, but the remaining stand of several hundred trees is still impressive.
This photo, perhaps like no other on these pages, evokes a feeling for the rural lifestyle of this island.
A loosely-tethered horse and an old ice chest filled with water keeps the highway right-of-way mowed and the horse well fed.
Highway maintenance, Molokai style.
Scenes like this, on the road between Kualapu'u and Kala'e, are common all over the island, but especially here in the middle.
Of course, if you're a golfer, just continue down the road past two more horses and a mule. Then turn into the Ironwood Hills municipal golf course. A fun 9 holes with terrific views of the middle and the northwest shoreline.
There was considerable debate amongst the editors of this site as to how much of Kaunakakai should be depicted here. Some argued, that since Kaunakakai is the business center of the island, it should be given broad coverage. Others wanted only a brief entry.
After lengthy negotiations, we decided to include photos of both streets.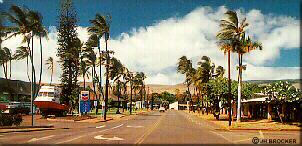 Well, actually it's only one street, Ala Malama Avenue which was named for Malama, the vacation home of King Kamehameha V.
This is the view from the intersection of "the highway", at mile marker 0, and Ala Malama looking north.
On the left, past the gas station is the library and state and Maui County offices.
On the right you'll find two banks, a couple private shops and Hawaiian affairs offices. At the end of the block, Ala Malama turns east into
Downtown Kaunakakai.

And HERE IT IS.
Two blocks long, with stores and shops on both sides of the street.
If you can't find what you're looking for in one of these places, you probably don't need it on Molokai.