PHOTO TOURS – Original Tour – East (Mana'e & Halawa)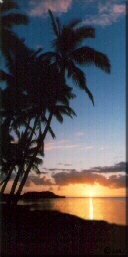 Mana'e, translated from Hawaiian means east, so it's no surprise that the eastern quarter of Molokai is referred to locally as Mana'e.
This is where each new day begins for the island.
This is also where the ancient Hawaiians began settling on Molokai and where the missionaries first carried their message to this island.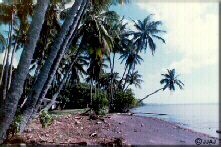 As is most of the island's south side, this area is protected by Hawaii's only barrier reef which narrows and finally ends near the island's southeastern point.
With the power dissipated by the reef's edge, 100 yards(92m) away, the waves gently lap at the narrow beaches.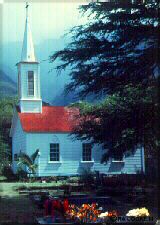 This one, Our Lady of Seven Sorrows Church, was built by Father Damien who is revered as the Martyr of Molokai for his work with the sufferers of Hansen's disease at Kalaupapa.
Located at Mapulehu, about 14 miles(23km) east of Kaunakakai, Our Lady of Seven Sorrows typifies the architecture of the missionary churches in Hawai'i.
These small chapels were usually adorned with a tall steeple and several large windows which allowed the cooling trade winds to pass through.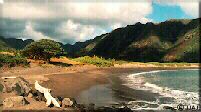 Seen here from Kawili Beach, Halawa Valley on the east end of Molokai, is the site of the oldest known Hawaiian settlement on Molokai.
This amphitheater valley was extensively cultivated with the Hawaiian staple, taro. The taro grown here supplied most of the entire island's needs and was even shipped to Maui.
The valley is divided by Halawa Stream which provided the necessary water for the taro patches.
Before the disastrous tidal wave of 1946, this beautiful valley was well populated. Today only a few make their homes here, but it is one of the island's most popular recreation destinations.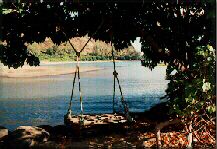 This swing, made from a washed up pallet and ropes, is about as high tech as it gets in Halawa.